According to The New York Times "Gingivitis In-Depth Report," more than 75% of American adults have some form of gum disease, although most are unaware of it.1 Periodontal disease is a chronic inflammatory disease that impacts the supportive gum and tissue around the teeth. Gingivitis is one of the first stages of periodontal disease, and it specifically affects the gums. If gingivitis progresses without treatment, it can transition into periodontitis. In this most aggressive stage, the bone and connective tissues become so badly damaged that tooth loss often results.
Before exploring the steps to reverse gingivitis (including natural treatment for gingivitis), it is important to understand this disease and its risk factors. What causes gingivitis? The condition begins with bacteria. While every healthy mouth has plenty of harmless bacteria, the balance shifts when bacteria becomes more substantial and thicker. This new sticky substance, known as plaque, is actually a barrier against bacteria to a point. However, when excessive plaque accumulates, it adheres to the teeth and gums, causing infection. The plaque turns into tartar, a rock-hard calculus that sits on the tooth surface and is difficult to remove. In either case, plaque and/or tartar contribute to gingivitis. Symptoms include red, swollen, and inflamed gums that may bleed during flossing and/or brushing. Gingivitis is often the cause of persistent bad breath (halitosis) as well.
While certain people may be more prone to gingivitis based on family history or hormonal changes (i.e. pregnancy can aggravate existing gingivitis around the second month and peak in the eighth month), the risk for this condition is typically dependent on oral hygiene habits and lifestyle choices. Even meal decisions can make a difference. Some foods, especially those high in sugar, can increase mouth acidity, making it an ideal environment for bacterial growth. If this acidic residue is not removed quickly enough through brushing or flossing, the residual bacteria can contribute to a higher risk for periodontal disease. Other possible contributors to gingivitis include poor oral hygiene habits, poorly contoured fillings or crowns, tooth abnormalities, wisdom teeth and various lifestyle choices including—but not limited to—diet, smoking, and substance abuse. Since gingivitis can lead to periodontitis and subsequently possible tooth loss, treatment for gingivitis needs to be immediate.
Will a natural treatment for gingivitis work?
Herbal medicine can be traced back as early as 3,000 B.C. to ancient Chinese and Egyptian papyrus writings which describe medicinal uses for plants. During the "Golden Age of Herbalism," which occurred between the 15th and 17th centuries, herbal plant remedies were used for a variety of ailments and disease.2 In the early 19th century, scientists took advantage of chemical analysis, extracting and modifying active plant ingredients. Today, botanicals are used in almost one fourth of all pharmaceutical drugs. Additionally, the World Health Organization recently estimated that 80% of people worldwide rely on herbal medicines for some part of their primary health care.3
Of the many dental products on the market today, many contain synthetic or chemical ingredients like Sodium Lauryl Sulfate (SLS) or Triclosan. SLS is a foaming agent that can be irritating to certain people, with some dental research linking it to increased gingival blood flow as well as mucosal irritations.4 Additionally, the U.S. Food and Drug Administration (FDA) is currently taking another close look at Triclosan, an ingredient designed to prevent bacterial contamination.5 Because the long-term impact of Triclosan is unknown, many consumers are looking for natural herb-based oral health care products.
Antibiotics are typically prescribed for the treatment of gingivitis, but these medicines can cause microorganisms to develop a resistance to the antibiotics, resulting in a more potent and dangerous bacteria. A natural treatment for gingivitis is an effective alternative therapy, as research suggests that microorganisms don't develop the same tolerance or resistance to the antibacterial effects of essential oils used in natural oral health care products.6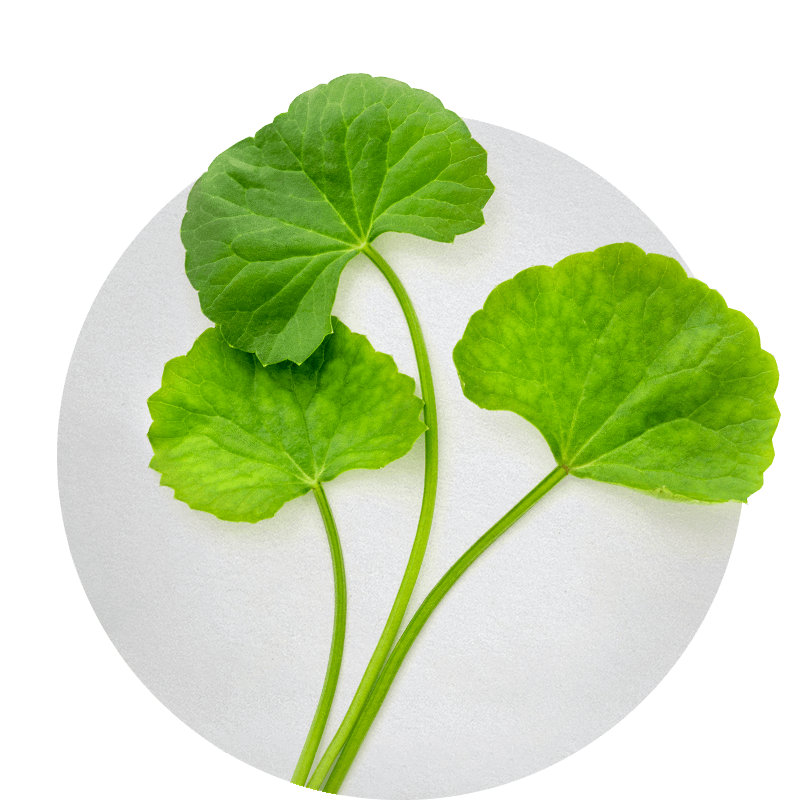 Truly Natural® Ingredients
Gotu Kola
An herb that has been used for centuries to aid in wound healing.
Essential oils used in natural oral care products have numerous beneficial properties. Herbs are specifically known for their ability to stimulate the body, enhance surface circulation, reduce inflammation, and soothe irritation.7 For example, natural oral products containing gotu kola (Centella asiatica) enhance connective tissue rebuilding, while products containing pure essential oil of lavender and vegetable glycerine soothe and condition tissues during healing. Herbal remedies, backed by extensive research supporting their safety and effectiveness with tooth and gum problems, are a smart choice to help reverse gingivitis.
Dental Herb Company's Natural Oral Health Care Products
Dental Herb Company believes that healthy teeth and gums can be achieved through the use of high quality all natural products along with proper oral care. The Tooth & Gums formula is the result of two decades of research and development. The all-natural essential oils and organic herbal extracts work synergistically to offer antimicrobial protection, tissue conditioning, and connective tissue rebuilding to aid in the treatment for gingivitis.
The Dental Herb Company oral care products are alcohol-free and particularly beneficial for those with special oral care needs. Mouth sensitivity and a higher susceptibility to infection are common among diabetics, especially for those who have recently undergone gum surgery or who are undergoing chemotherapy.
Choosing natural, herbal-based toothpaste and alcohol-free mouthwash is a safe solution to help reduce oral irritation, reverse gingivitis and enhance healing. Restore and maintain your oral health with the all-natural efficacy of Dental Herb Company Truly Natural products for Healthy Teeth and Gums. To help prevent and treat gingivitis, focus on smart lifestyle choices, brush and floss often, follow a healthy diet that is rich in vitamin C (known to positively impact oral health), and have regular dental cleanings and check-ups as recommended.
---
References:
Baqai, Rasheed A., Grace Chia-Huei Chin, Eric Dashofy, Ron R. Katzir, Julie C. Reyes, and Chuan Wong. "Herbs: A Glimpse into Its Long History." University of California, Irvine, n.d. Web. <http://darwin.bio.uci.edu/~sustain/issueguides/herbs/history.html>.
http://www.rdhmag.com/articles/print/volume-17/issue-5/columns/periodontics/toothpaste-ingredients-can-lead-to-lesions.html
Meeker HG, Linke HAB. The antibacterial action of eugenol, thyme oil, and related essential oils used in dentistry. Compend. 1998;9(1):32-40.
Stay, Flora P., DDS. "Integrative Dentistry: Herbal Therapy in Dentistry." Healthy.net. HealthWorld, n.d. Web. <http://www.healthy.net/scr/article.aspx?Id=1472>.